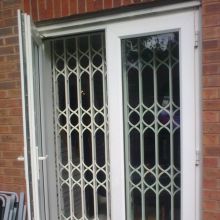 Secure concertina doors, concertina shutters and concertina gates can expand or contract to fit any width.  This makes them ideal for commercial and business premises as we can install them to secure entrances of almost any size.
Suitable for use in interior or exterior areas, they offer practical security for windows and doors.  As they don't require tracks embedded in the floor, they don't create a tripping hazard either.
Another clear benefit of concertina shutters, is that they allow air and light in without compromising security.  They are perfect for enclosing areas such as lift carriages, lift shaft openings and landings.
Concertina Shutters Offer Great Looking Security
We install and supply concertina security systems in a range of styles and colours to suit any premises.  When you want to open them, you can retract them in seconds.
Security trellis barriers are a light, yet strong concertina closure and because of this, they are ideal for mobile or permanently fixed configurations.  Elegant and simple, they are perfect for many period properties as well as modern premises.
We have integrated our concertina-format security equipment into traditional and modern premises.  At B & L, we are glad to help you choose the most discrete option for your business.  We install, repair and maintain concertina doors, gates and shutters across the UK.
Retractable Security Gates & Removable Bars
Retractable security gates are a stylish way to protect windows and doors.  We only install equipment with a LPS1175 Security Rating Classification 1. Their high strength and flexibility provide effective security.  Retracted they take up very little space, leaving your windows or doorways clear.
We can also install removable bars.  Due to their sturdy, simple construction, removable-bars provide a very effective barrier against intruders.  Steel bars also prevent opportunist break-ins very effectively, because of their strong visual deterrent effect.
Anti-Cut Steel Bar Security For Vulnerable Areas
Anti-cut steel bars lock securely in position, which results in powerful protection for vulnerable windows or doors.  Offering a high level of security, they are sturdy and thick enough to prevent defeat in all but the most extreme circumstances.  Sturdy construction results in a product which is extremely hard to break or cut.
Anti-cut steel combines great security, with quick, flexible operation.  You can easily release them from the inside when you want an unobstructed view.  This is useful when you need to clean or maintain your windows, or during working hours.
B & L can fit your Anti-Cut Steel Bars in a horizontal or vertical arrangement to suit your needs.  These retractable secure gate systems are ideal for patio doors and French windows as well as any other vulnerable ground floor windows, doors or entrances.  We design the bar layout to bring strong intrusion defence and visual deterrent while allowing light to flow into your rooms.
Fixed Bars For High-Security
For even higher levels of security, we can also install fixed secure-bar systems which are even tougher to breach than retractable bars.
Commercial & Domestic Security Systems Offer The Following Benefits
Extremely durable security barrier
Galvanised and powder coated for corrosion resistance
Fully retractable system
Excellent through vision when locked for natural light and vision
Multi point locking from a single key
Smooth running carrier system
Custom built for any opening
Quick and easy to use
We can fit locking posts at either end, maximising flexibility
Where access is not required, a fixed sash option is available
We can design security protection for any width'
Contact B & L Shutters and Garage Doors Ltd
To order, or for more information please get in touch:
Call: 0121 557 0260 Emergency: 07976 444 671