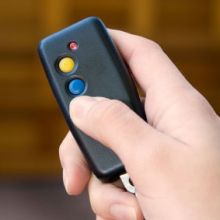 The challenging economic climate, jobs market and cuts in spending on services such as the police have created concerns amongst many home owners and business owners – mainly that crime and break-ins will continue to become more common. While most people will ensure that they lock their front door and rear windows, surprisingly few will make sure that their garages are secure and yet most garages lead directly into the house.
Once a burglar is in your garage, they can take their time breaking in through the inner door.
Why You Should Make Your Garage Secure
Locking cars in a garage helps to secure them
Burglars see damaged garaged doors as easy access
Garages can offer secure storage space
In an article written in December 2011, the Sun newspaper printed a burgler's 'graft list' which detailed easy targets and tools required to breach them. One of the most common target's was the householder's car and accessing the keys to that car was a common reason for breaking into the house itself. It makes sense then to keep your car in your garage and to keep that garage secured.
So whether you need a brand new garage door, or need your current garage door repaired or made secure, we have a variety of options to suit your budget and security needs. A garage door which doesn't lock is a nuisance which can be an acute security risk.
Replacing the lock or upgrading to a better quality garage door, a steel garage door or even a secure roller shutter system for your garage could mean the difference between peace of mind and theft.
Of course having a secure internal door / fire door (between the garage area and inside of your house) can buy you precious time or even stop thieves in their tracks. The most important line of defence however is a sturdy and lockable garage door which even accomplished thieves can't beat without making themselves really conspicuous.
B & L are experts in installing sturdy and durable garage doors which are hard to lift, almost impossible to break through and are corrosion resistant as well as taking the Great British weather in their stride.
Many of our customers are well aware of the benefits of automated garage doors with remote operation. For those who are new to the idea, it is worth mentioning that you don't even have to leave your car to open your garage doors and drive inside. You'll find that protection from the elements all year round is enough incentive to upgrade. Others may worry about the potential for muggers waiting for the householder to return.
With remote controlled garage doors, you can be home and dry before you step outside of your vehicle.  We can even install a GSM controlled system to allow you remote access to your garage door.  Just call the garage control box from an authorised phone, such as a mobile and your garage door will open or close automatically.  The call is never 'answered' so you don't pay call charges.
While you are improving your security and maybe even the aesthetics of your home, why not consider efficiency and look into one of our insulated garage doors. Even new housing with the proper fire doors set up between the main house and garage might well be lacking when it comes to energy efficiency.
Garages are often inherently draughty and cold. The need for easy and frequent access makes this seem inevitable. However, we can supply secure garage doors insulated with modern materials such as rigid foam which, in conjunction with other construction materials, helps to prevent dents as well as the ingress of cold.
This luxury doesn't cost the earth, particularly when you buy the garage door and fitting service from B & L.
Our friendly staff are ready to take your call on 0800 924 7127 whether it is for buying advice or a repair that you would like to enquire about. If you're not in a hurry or prefer to write in the first influence, please use
our simple contact form
and we will do our best to contact you as soon as possible.
Download A Brochure

  Right-click here and 'save as' to download a brochure showing many of the garage doors we offer, or left click to view it in your browser.
Contact B & L Shutters and Garage Doors Ltd
To order, or for more information please get in touch: