B & L are proud to be Approved Installers for Hormann & Novotherm products.  You can trust the knowledge, experience and manufacturers' support that we are granted as official installers.  We bring you the added confidence of expert installation, lasting quality and reliable operation from your Hormann & Novotherm products.
Hörmann Spiral Doors
Suitable for use as internal or external doors, high speed doors are efficient, secure and practical closures.  As well as offering excellent security, Hormann Spiral Doors saving you money as you don't need to install a separate security shutter and fast action curtain.  They also help to maintain your internal temperatures as they close very quickly.
Hormann Spiral doors are also easy to maintain and service and are powerful as well as secure. Featuring a frequency converter control (often stated as an FU) which increases the lifespan of the door's mechanisms drastically, your Spiral Door will give you years of high performance and high security operation.
High Speed Doors offer you a true win-win solution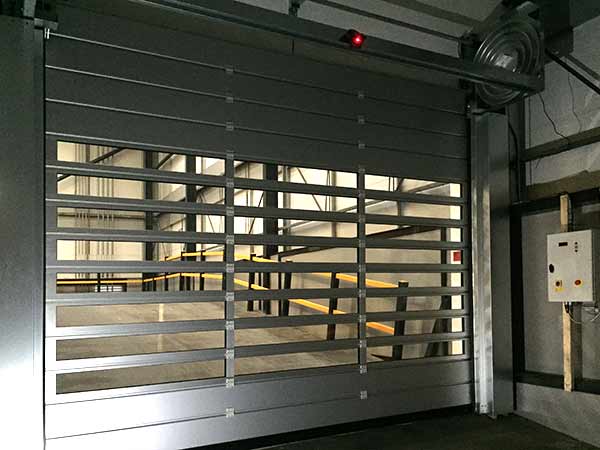 B & L Installed Hörmann Spiral Doors at Audi Nottingham
Helping to keep their workplace going, by quickly opening and closing to allow staff, plant and  stock through without delay, these doors also save energy.
Minimising temperature changes and maintaining a more stable climate, can help to save you money and keep your premises at optimal temperatures.
Our transparent doors using Hörmann's proven technology are available in horizontal and vertical transparent doors and feature flexible curtains.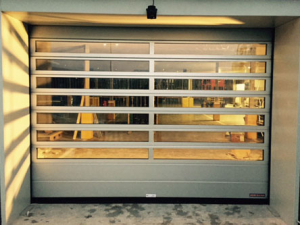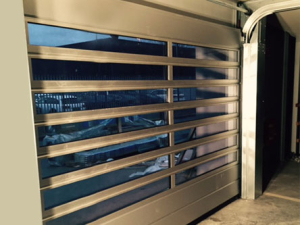 NovoSpeed Thermo Spiral Security Doors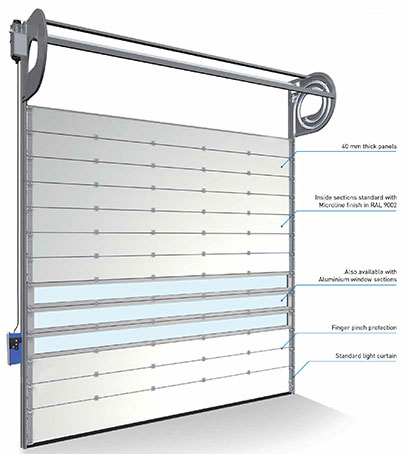 The NovoSpeed Thermo is a spiral fast door with a wealth of features to suit a range of applications. Fast in operation, space-saving design and exceptional insulation as the name suggests.
Thanks to its rugged sectional design, the NovoSpeed Thermo is wind resistant to 10 – 12 on the Beaufort scale and features a rapid opening speed of 1.1 m/s and has a range of controls to make operation simple.
NovoSpeed Thermal Construction
This high speed door is constructed with Microline sections.  They run along a spiral shaped rails with vibration free rollers to provide swift and nearly silent operation.
An electric drive mechanism incorporating a frequency convertor mean reliable, efficient operation.
Utilising a sandwich of polyurethane core with aluminium outer shells with a 40mm thickness, excellent thermal insulation and rigidity are achieved.
Window options allow for one or more sections of thermally insulated double-glazed vision panels.
Operation & Safe Control
If the safety-light curtain is interupted by any obstacle, the door automatically opens until the obstruction is removed.  The door can of course be manually operated in the case of power loss.
The door comes with 3 button operation as standard, open-stop-close.  Options are also available for operation by pull switch, key operation, photocell, radar, induction loop detection or radio control.
The door features adjustable opening time, service and run modes and permanently open or closed.
Specification
Maximum: 5 Metres Width / Height
U-value at maximum size: 1.5 W / M2K
Fast opening speed: 1,1 m/s
Wind resistance: Class 2- 3 (up to 10 – 12 Beaufort / 89 – 133 km/h)
Low maintenance: Springless system (200.000 cycles)
EN13241-1 compliant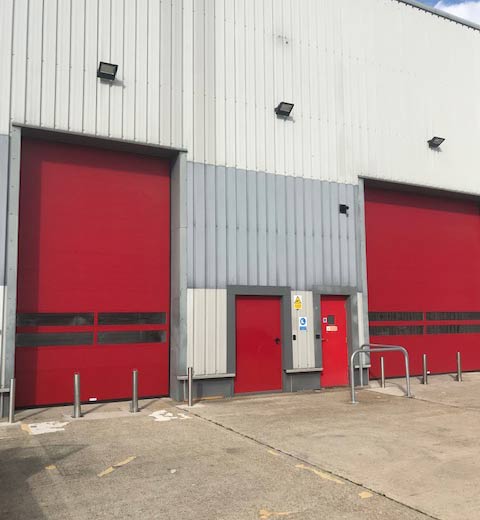 Novospeed Insulated Spiral High-Speed Roller Doors

 Download The Novo Speed Thermo Brochure Here
Dynamicroll High-Speed Doors by BMP
Dynamimcroll high-speed doors offer smooth and rapid action to allow traffic to enter and leave your premises without delay. With a range of features including vision panels, self-healing membrane, self-lubricating guides and wireless sensor transmission, they are impressive and good value.  Available in a range of 6 RAL colours to suit any premises, we recommend them to a wide range of customers.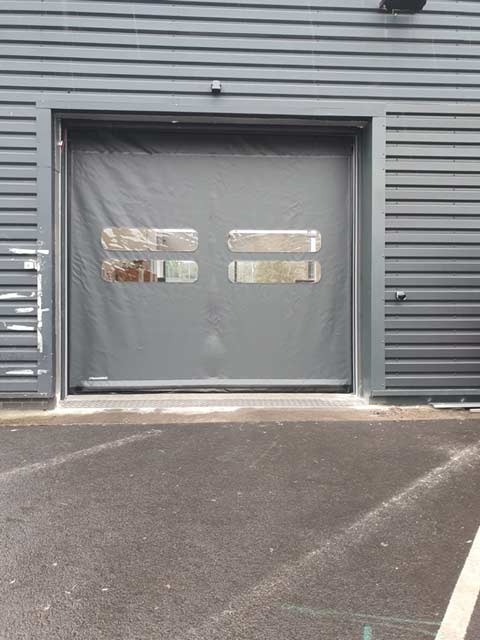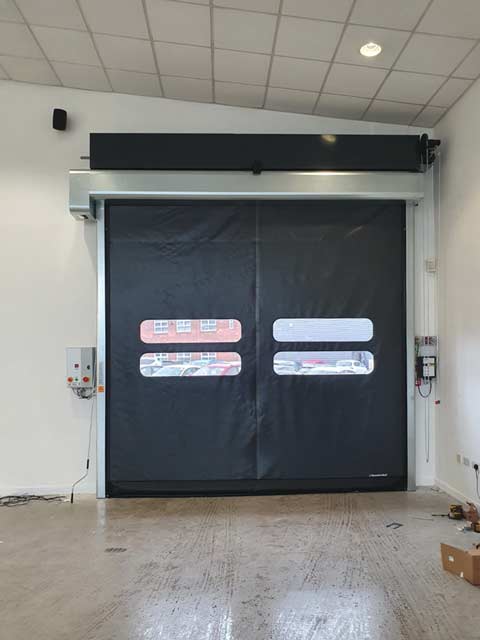 Contact B & L Shutters and Garage Doors Ltd
To order, or for more information please get in touch:
Call: 0121 557 0260 Emergency: 07976 444 671