Gate automation is an efficient way of maximising security and convenience.
There are many features that make automated gates the perfect solution for you or your business.
You don't have to leave your vehicle or manually operate an automated gate yourself, so you can avoid the weather, inconvenience and the need for human operators:
Staff and visitors can stay out of inclement weather.
Dedicated gate operators are not required.
Automated gates are not left open by mistake, so security is improved.
Electronically operated gates open and close easily even in windy conditions that make it hard for some staff to operate manual gates.
Of course, automated gates can be operated manually if power fails too!
For more information on the benefits of gate automation, click here.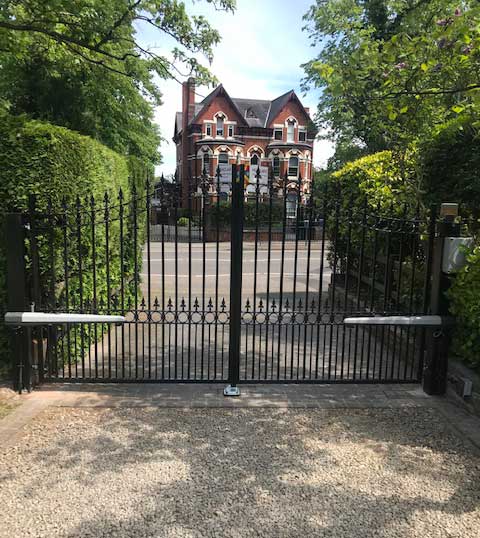 Automated Gates For Security & Convenience
As experienced installers we can supply and fit gate automation systems discretely within or near posts or even underground.
We can provide automatic rolling gates, cantilevered sliding gates, 'wooden electric gates', automatic opening wrought iron gates and a range of electric gates for driveways.
The wrought iron, metallic or timber gate sections of our automated gates can be bespoked to sympathetically blend in with or compliment your premises, driveway and or household.
We work with a range of manufacturers to create durable and reliable electric and automated gates for any home and business application.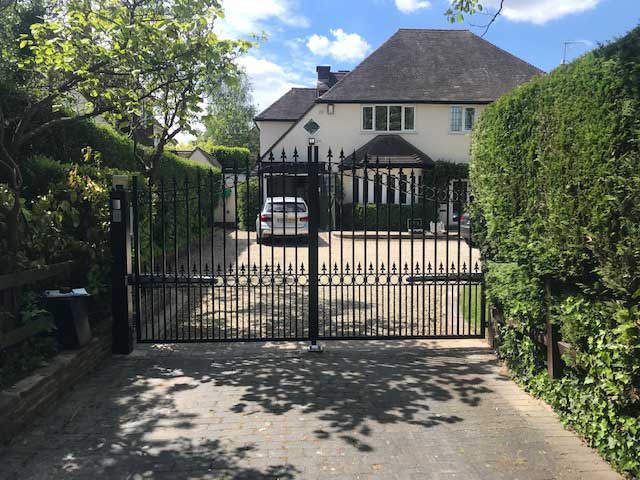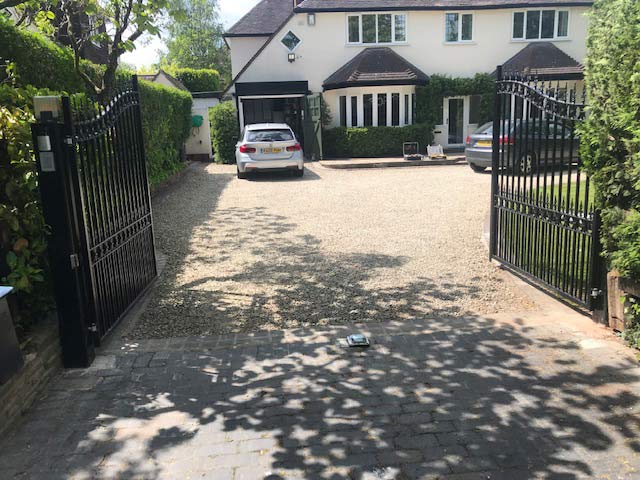 Commercial Gate Automation

We can also manufacture, supply and install automated security gates for a wide range of commercial premises throughout the UK.
We can implement a variety of sensors, timers, key, card access or centrally controlled systems to make sure that your gates work smoothly and efficiently.
Remote Controlled Gates
We can also provide a range of remote control features with your gates.  Many large premises prefer their security staff to control their gates from a central location.
Others issue their staff with remote control fobs to allow access to their grounds.
GSM Remote Controlled Gates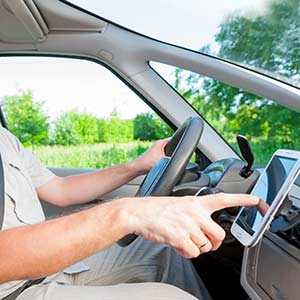 Our remote control options include GSM remote control.  Each gate with a GSM controller can be opened or closed by calling the controller from an authorised mobile phone.The calls are never answered, so there is no phone bill associated with this.
There is no phone-bill associated with GSM security systems as the calls are never answered.  We have found that GSM remote control is extremely popular because mobile-phones have become some ubiquitous.
While network connected security is also very popular and allows flexible control via secure apps, the simplicity of GSM has made it a favourite.
Popular GSM controllers allow for up to 200 phone numbers to be authorised for access.
Contact B & L Shutters and Garage Doors Ltd
To order, or for more information please get in touch:
Call: 0121 557 0260 Emergency: 07976 444 671