Fire curtains and smoke curtains are an essential part of your premises fire and smoke control solutions.  The correct equipment can offer your staff and premises vital protection against the spread of fire and smoke.
Choosing effective fire and smoke control solutions in your premises offer your staff and premises vital protection.
The equipment that we install surpasses the strictest requirements demanded by fire safety legislation and recommendations.
Containing a developing fire and the toxic smoke that it creates requires a certain amount of planning. At B & L we can help you work towards the best choice in fire curtains & smoke curtains & screens without undue confusion or fuss.
At B & L we can help you work towards the best choice in fire curtains and smoke curtains / screens without undue confusion or fuss.
We offer a range of fire and smoke curtains including:
Automated curtains which deploy when you lose power
Fail-safe barriers which operate in a controlled manner
Standard 6000mm pre-wired and configured fire curtains
Large fire curtains up to 8 metres by unlimited width
Smoke Curtains almost any size
Face Fixed Fire Roller Shutters up to 4 hours protection

We install fully manual (self-coiling) roller shutters, chain operated and electric roller shutters utilising a fire motor unit. Guided by your requirements and budget, we will be able to determine which system suits your premises.
All of our roller shutters start to close at a controlled rate. That means that staff attempting to use the entry or exit won't be subject to injury by a sudden and rapid drop.
Our auto-solenoid shutters using a DC power supply (using solenoids which auto-reset to avoid undue call-outs).  Self-coiling (manual) roller shutters utilise a drop-bar weight and braking system to deliver a smooth deployment.
When we install fire shutters for you, we leave you with a full year's guarantee.  We only use equipment that we can maintain with readily available spare parts.  That means you won't find yourself replacing equipment afeter a year or two because the required parts can't be found.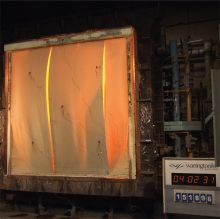 We always assess your premises before recommending you a fire or smoke curtain solution. We only use highly specified materials in our work such as the range created by Neco. Their own fabric 'Neco 240+' fully complies with the most demanding fire safety requirements worldwide.
We use this well-known material in our high-quality fire-curtains and smoke curtains as well as 'smoke screens', 'fire blinds' and wall-cavity / roof-void fire barriers.  Our suppliers construct their Neco 240+ material from glass fibre and stainless steel wire which denies the passage of fire and smoke. A 'micro-ionised ' aluminium polymer coating seals teh material to reflect heat.
British Standards Fire Test
Our blinds easily beat requirements for fire resilience. The British Standards Fire Test require that a fire curtain/blind or smoke-screen must remain in place for 30 minutes at 620C. The materials we use offer up to 250 minutes fire resistance at up to 1000C!
Our experienced in the installation and maintenance of fire-curtains – from single door to vehicle portal and bigger – means that B and L are the clear choice to install your smoke screen, smoke curtain, fire curtain, steel doors or fire-protection roller shutters.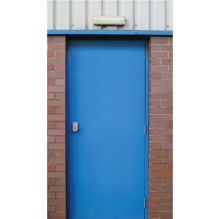 Our steel doors offer vertical and horizontal reinforcement and interlocking seams with dense insulating material filling internal spaces. Creating a durable and truly fire resistant closure means you create a better fire containment system.
Fire resistant steel doors give your staff longer to remove themselves from a suspected fire and giving emergency fire services more time to arrive and set-up.
Our steel doors are fitted with steel frames which are reinforced and feature fixing plates to anchor them securely in place.
If you would like to enjoy a more attractive and multifunctional fire-door, we can install vision panels into fire doors with single or double-glazing and the same great level of protection.
B & L install doors with a choice of locking mechanisms which suit your needs.  We can also supply your steel door in a wide range of colours to blend seamlessly in with your premises.
Contact B & L Shutters and Garage Doors Ltd
To order, or for more information please get in touch: