B & L bespoke, supply and install a wide range of serving hatch shutters to suit kitchens, serving areas and retail kiosks.
With a range of styles and colours to suit any location, serving hatches bring affordable security to your premises.
Get in touch with B & L Roller Shutters today to discuss your requirements.
Serving Hatch Shutters
Our serving hatch shutters are the convenient and secure way to close off food serving counters from the service area.
They are equally useful in reception areas, bars, kiosks, till areas and all other types of service hatches and counters.
These hatches can be clear and are usually made of aluminium, though they can be specified in other secure materials.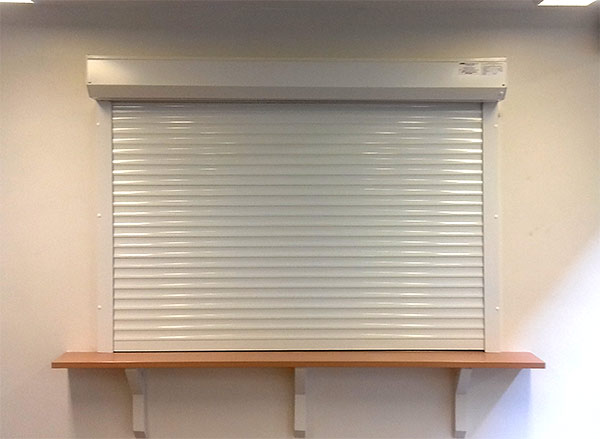 As well as traditional serving hatch shutters , B & L also install security grilles to close off an area without obscuring the view completely.
These are popular in areas such as hotel or restaurant bars, where more discrete and visually appealing security is preferred.
Our aluminium grilles are durable and attractive as well as being easy for your staff to use.
Using a grille like this allows your guests to see through to the bar, but provides robust internal security to deter and prevent opportunist theft of money from the till, valuable beverages, food or even bar accessories.
Get in touch with B & L Roller Shutters today to enquire about a secure grille for you bar or serving area.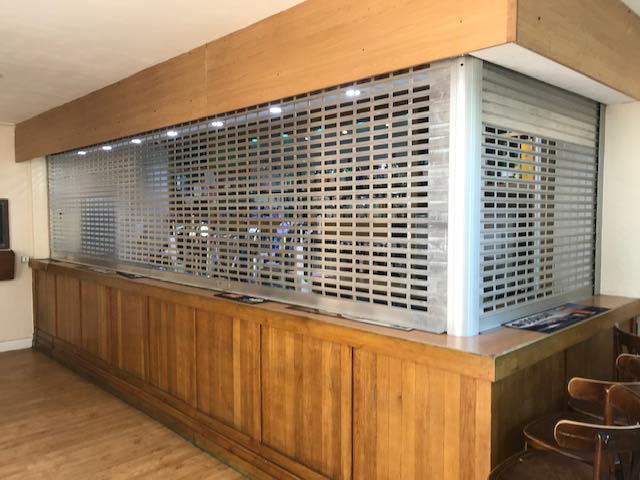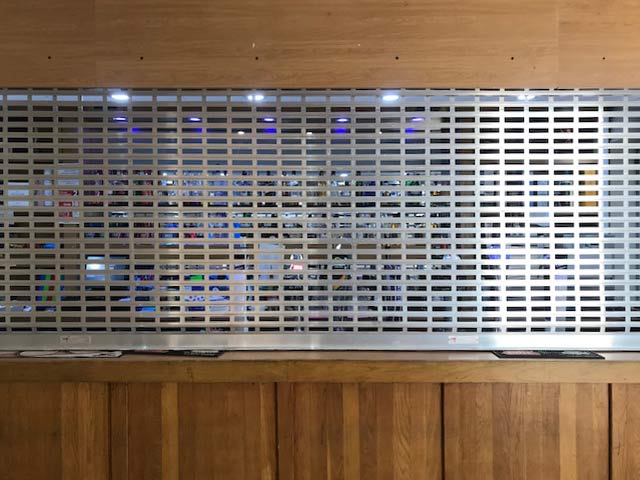 B&L Fire Stopper Roller Shutters
For Serving Hatch / Food Areas
Where the serving hatch shutter secures a kitchen where food is cooked or reheated, we supply fire rated shutters to comply with fire regulations and insurance requirements.
B & L can install fire safety shutters that are connected to a complete fire system or dedicated sensors and controls.
All our fire safety shutters can be operated manually in case of power outages.
We can also offer you a range of colour finishes for your fire shutters, to suit your premises.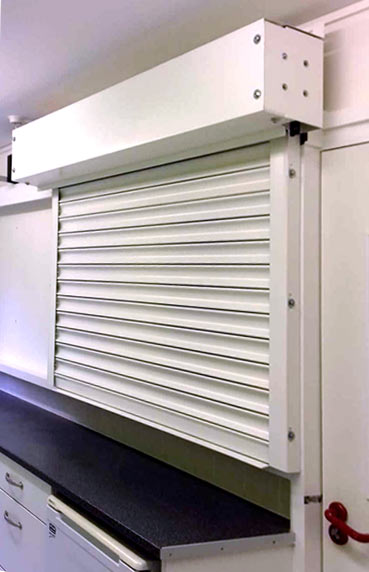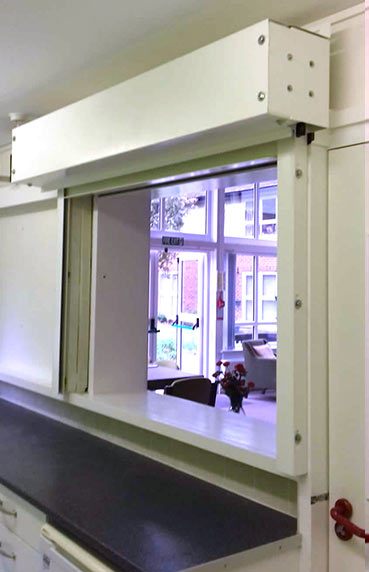 Spec : BL60
low level push button up-down for daily usage
75mm curved lath profile – 20g – steel end locks
Bottom T Rail
65mm side guides
75 x 50 x 5 throw off angles
255 x 255 head plates
240v motor drive
safety end break
canopy box cover
battery back up in case of power failure
fire control panel : connection to fire alarm – auto close on activation
fully powder coated any standard RAL – BS colour
BL44 Electrically Operated Compact Shutters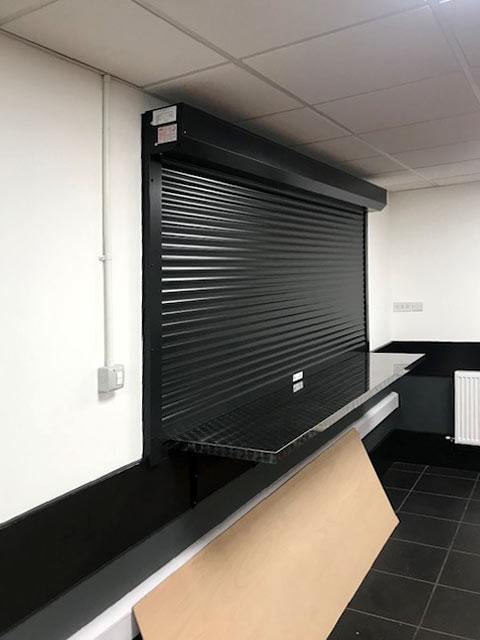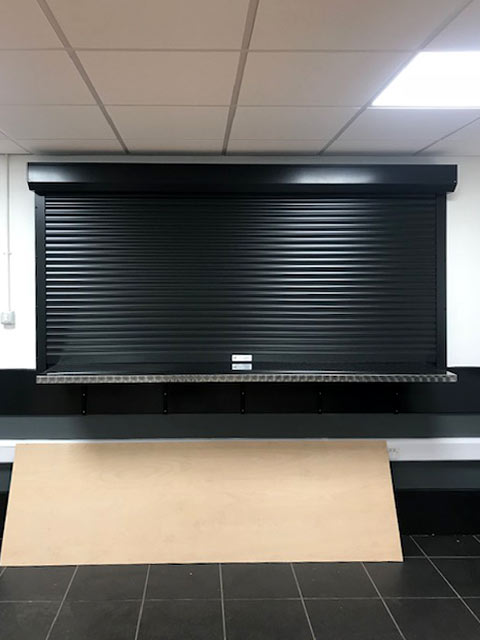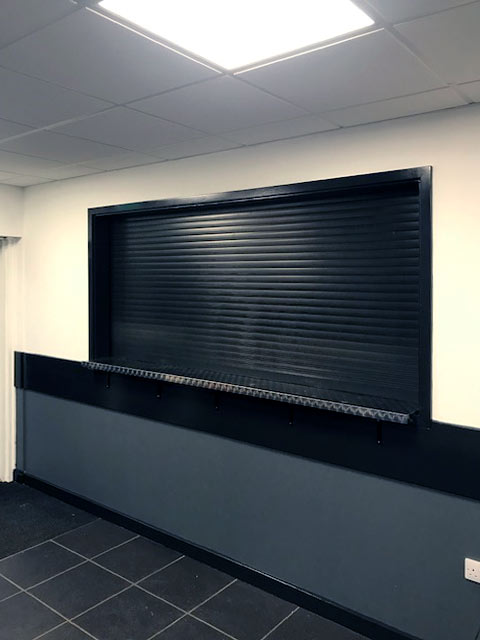 Bespoke Serving Hatch Shutters
Our shutters are custom made to suit your requirements and offer a wealth of features:
Made to measure service
Experienced UK-wide installers
All work guaranteed
Low profile hoods
A range of attractive colours and finishes
Vision panels, perforation, stamped or solid design
Quiet electronic or manual operation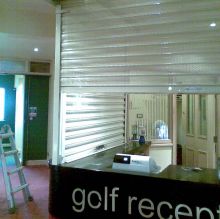 Other Applications
We can efficiently secure service counters of virtually any kind with our elegant roller shutters.  They suit a wide range of businesses such as:
Garages
Tyre dealers and motor parts
Dentists
Doctors
Pharmacists
Golf clubs
Food and beverage counters
Food preparation and commercial kitchens
Bars and restaurants
Trade counters
Business to business premises
Promotional merchandising companies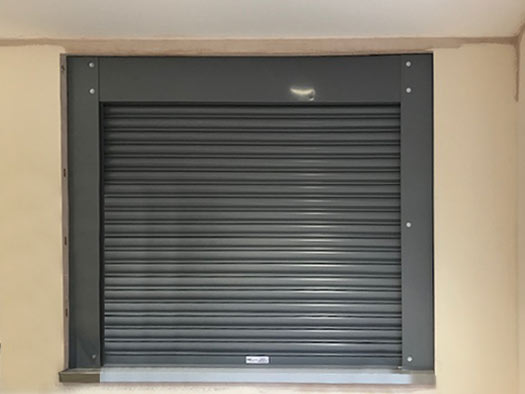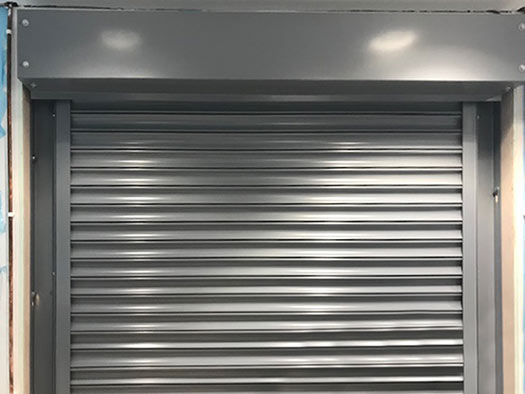 If you have a shops or retail outlets, we can help you to benefit from clear shutters, which allow your products to be displayed even when the shop is closed.  Shutters can have clear vision panels or perforations / punched sections.  If you'd like to find out more about our clear roller shutters, look here.
Light Weight Serving Hatch Counter Shutters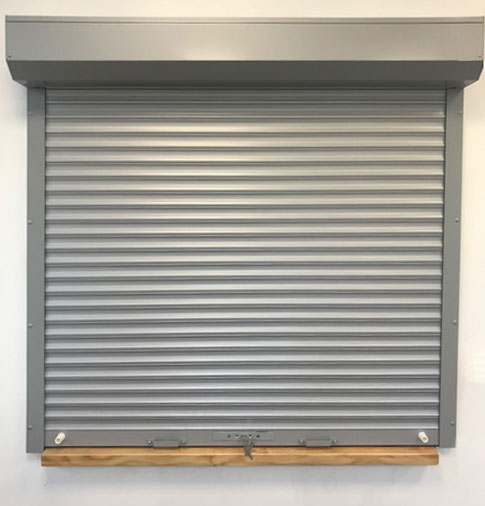 Sample Specification
Compact, Manual 44mm in RAL 9006 silver
Side Guides & Seals  – 65mm wide
Curtain – 44mm
Hood – 165mm
Spring-Loaded manual operation
Lock – central bottom rail lock
Ideal for food servery hatches
Attractive & affordable security
This kind of shutter is designed to secure serving-hatches and windows, featuring a compact housing and smooth operation.
Typically we recommend shutters like these to prevent unauthorised access to hotel bars, serveries, kiosks, school tuck-shops and similar low-risk environments.
They offer an affordable and easily operated option for preventing casual theft or break-ins when the service area is unattended.
If you have a serving counter that you'd like to secure, B & L are the experienced installers that you can trust to supply and fit the best solution for you.
Phoenix Fire Stopper 4 Hour Series
Extruded Aluminium Compact Serving Hatch Shutters
Light-weight, attractive and robust, our appealing extruded aluminium compact serving hatch shutters are a great choice for any serving venue.
We recommend these shutters for internal security where they perform well against intrusion.
Manufactured to maximise the structural integrity of the shutters, our aluminium extruded shutters bring a very appealing balance of performance, security and price for a wide variety of applications.
Offering a medium-high level of protection and a variety of colours & finishes, they take a lot of beating.