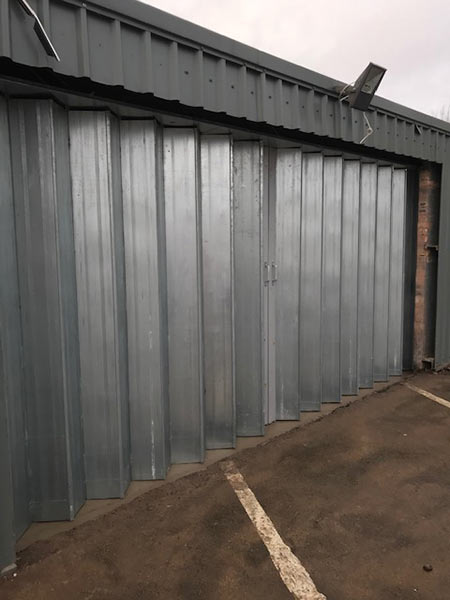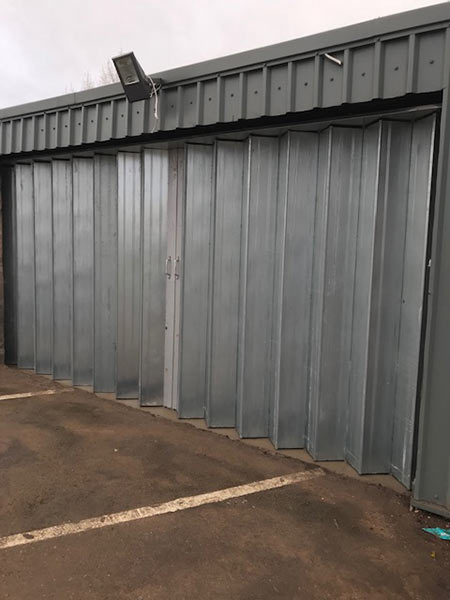 B & L manufacture and install custom-made steel, sliding folding doors to any size. Because we make the doors we can install for you, we can specify and fit them to virtually any type of premises.
Hard Wearing & Efficient Steel Sliding Folding Doors
Our steel sliding/folding doors are robust enough for heavy-duty and frequent usage in demanding industrial or commercial applications. Insulated to keep heat in and finished to remain weatherproof and smooth in operation.
We can build in pedestrian access doors and of course the sliding, folding doors can easily be partially opened to allow incoming traffic without completely retracting them.  Once retracted, they are efficiently stowed, so they won't take up valuable shop-floor space.
Manual Or Automated Operation
Our steel sliding folding doors can be operated entirely manually, or they can be operated automatically.
B & L offer you complete flexibility and control over access using your door.  With a range of control systems from GPRS to push-button, pressure or optical sensors, key-pads & biometric access we can suit any application and level of security.
Keeping abreast of security trends, we offer top-quality motorisation technology to ensure durability and offer quiet, reliable operation to avoid undue distraction to your business.  Naturally we can also install alert equipment to notify nearby staff that the door is in operation to ensure safety.
Easy to use, specified and manufactured to the highest standards, you can trust B & L to offer you the best in steel sliding folding doors for your premises.
Contact B & L Shutters and Garage Doors Ltd
To order, or for more information please get in touch:
Call: 0121 557 0260 Emergency: 07976 444 671