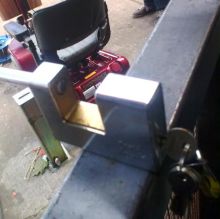 We can carry out roller shutter repairs throughout the UK. Whether it is a basic repair such as broken strap replacement or electric motors that are damaged or in need of replacement or repair we are here to help. We aim to minimise disruption to your business operations.
If the roller shutter problem is preventing you from opening your shop or business premises for business:
Emergency repairs: commercial & industrial roller shutters:
(before calling for an emergency visit, please view our rates page here)
During office hours, you can also reach our offices on 0800 9247 127 or 0121 557 0260.
We have a transparent pricing policy which clearly details and includes parts and time on essential repairs.
Accidental Damage: Roller Shutter Repairs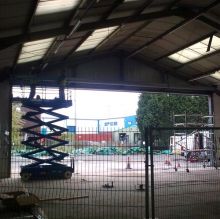 Roller shutter doors, curtains, slats and other parts can be repaired if they have been accidentally damaged by a vehicle or obstructing objects.
We can also supply and install rapid opening industrial doors which have anti-crash facilities and open via sensors to prevent such problems.
If a broom or other item has fallen between the shutter and window and have created damage or are hindering the roller shutter from opening or closing correctly then please get in touch.
Regular maintenance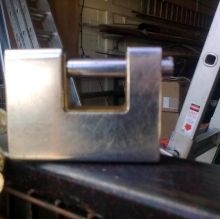 B & L also service, maintain, inspect and clean roller shutters.  This essential maintenance helps to prevent problems from occurring. Curtains can be cleaned, ventilation holes cleaned out and guides and mechanisms can be lubricated.
Keeping your roller shutters clean and free from foreign bodies makes lubrication more effective, protects against damage occurring and extends the life of yoiur equipment.  You won't need roller shutter repairs as often with a maintenance program.
Like any other machine, smooth running and longevity is enhanced by the proper attention and care.  Our roller-shutters are rugged and smooth running.  If you put a regular maintenance schedule in place, they are more likely to stay in good condition for a long time.
24 hour Emergency Repairs for roller shutter doors
We are able to provide repair work, maintenance and servicing for all commercial and industrial roller shutter doors, steel security doors, garage doors, ram posts and security grilles.
Our high quality work is guaranteed and we are available to work across the UK. Including Birmingham, Wolverhampton, London, Oxford, Swindon, Nottingham, Derby, Sheffield, Cardiff, Worcester, Coventry and Gloucestershire.
Shop fronts, industrial premises, warehousing and shopping centres can all benefit from our roller shutter repair and maintenance services. We can assist you no matter how large your rollers shutter system is.  Get in touch with B & L now.
Typical Repair / Replacement Problems
Roller shutter
Rolling mechanism
Revolving spring loaded barrel
Barrel assembly
Support brackets
Canopy covers
Chain sprocket
Curtains
End locks
Fixing lugs
Hand chains
Helical coil springs
Side plates
Side channels
Channel guide Problems
Ratchets
Any developing faults or problems
In the first instance please call us on: 0800 9247 127 or 0121 557 0260 or 07850 551806.
All brands of roller shutter can be repaired, serviced and maintained.  We can service rapid opening doors, transparent or clear roller shutters, sectional doors, industrial doors, fire doors, security grilles, anti-ram posts and all other types of security door and roller shutter.
We work throughout the UK repairing roller shutters including Birmingham, Wolverhampton, West Bromwich, London, Bristol, Coventry, Nottingham, Derby, Gloucestershire, Oxford, Manchester, Liverpool, Leicester, Sheffield, Stoke on Trent and Leeds.
Contact B & L Shutters and Garage Doors Ltd
To order, or for more information please get in touch:
Call: 0121 557 0260 Emergency: 07976 444 671