We are proud to be authorised installers of fast roll shutters, high speed doors by Novoferm.  These include the Novo Speed Heavy OUTDOOR, the Novo Speed Thermo and the lighter Novo Speed Flex for interior applications.
NovoSpeed Heavy OUTDOOR Fast Roll Shutters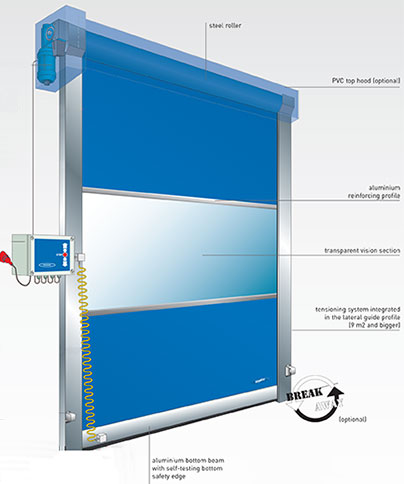 The Novo Speed Heavy Outside Door is an electric rolling high-speed door ideal for external openings of industrial and utility buildings.  With maximum dimensions of 6000mm x 6000mm and fast 1.5/s open speed and 0.75m/s closing speed, it's a fast flexible choice for your premises.  It also has the strength to withstand winds of up to 8 on the Beaufort scale!
Featuring rapid operation, energy-saving and draught-exclusion / climate control functionality, the Novo Speed Heavy door is a practical and durable security solution.
NovoSpeed Heavy Door Construction
The door is constructed with horizontal sections of 3mm thick polyester-resinforced PVC.  Each section has an aluminium reinforcement profile.  A generous transparent PVC vision panel is conveniently incorporated between 1200-2200mm.
The door is finished with an aluminium beam and rubber sealing profile at the bottom edge and brush seals line the galvanised steel roll guides to help keep operation smooth and efficient.
Operational Control & Safety
Direct-drive electrical motor operation moves the door quickly and reliably with integral roll-off safety.
The control system regulates the open time which offers adjustable run time or 'deadman operation'.  The door control can also be set for permanently open or shut conditions.
Operation can be triggered by pull switch, key, push button photocell, radar, induction loop or radio control.  Further options are available on application, the standard option is 3 button (open, stop, close) control.
Novospeed Installation At BMW Romford
We recently installed a Novo Speed fast action curtain door at BMW in Romford.  A particularly impressive solution, the Novo Speed features a robust construction and fast-action combination that is hard to beat.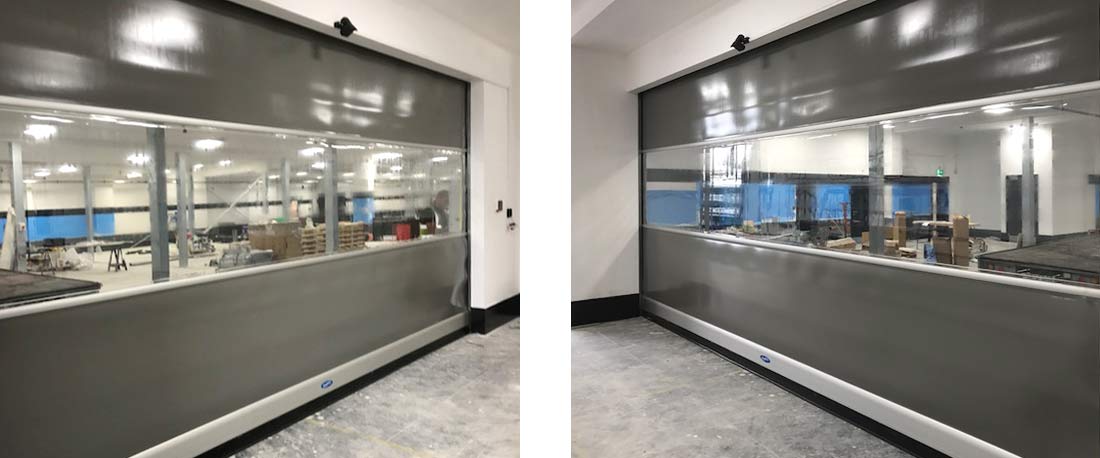 Download The Novo Speed Heavy OUTDOOR Brochure Here
Novoferm NovoSpeed Flex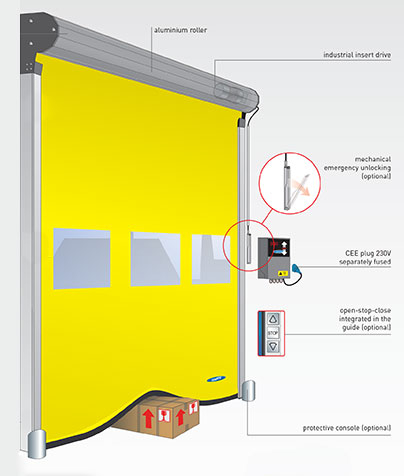 The Novo Speed Flex has energy saving, draught exclusion and climate control functionality especially suited to partitioning the rooms of your premises.
With wind resistance up to 5 on the Beaufort scale, this door is sturdy and resistant to almost any internal conditions.  Operation is exceptionally fast too, with opening speeds of 2m/s and a closing speed of 0.5m/s.
NovoSpeed Flex Construction
The door is constructed with 1.2mm thick polyester-reinforced PVC with a integrated vision section at a height of 1250mm – 1850mm.  The curtain features a soft bottom beam and aluminium lateral guides to form a single taut unit.
The electric drive is an industrial tube motor which requires minimal lateral space and the protective roller hood is constructed from PVC.
Operation Control & Safety
If the curtain is interrupted by any obstruction, the door fully opens until the screen is freed.
The Novo Speed Flex offers adjustable opening times, variable speed regulation and permanently open or closed functionality.
This door can be operated by pull-switch, keys, push-button, photocell, radar, induction loop or RF remote control.

 Download The Novo Speed Flex Brochure Here
Contact B & L Shutters and Garage Doors Ltd
To order, or for more information please get in touch:
Call: 0121 557 0260 Emergency: 07976 444 671