The days when only jewellery shops and banks were targets for ram-raiders are long past.
Theft and terrorism are key motivations behind ram-raiding and many types of businesses can be vulnerable for a variety of reasons.
If your building could conceivably be a target for ram raiders, you will already be aware of the need to put barriers in place to prevent this form of attack.
Luckily, with B & L specifying and installing barriers to protect your staff, your assets and your premises has never been easier or better value.
At B & L in the West Midlands, we supply and install a wide range of anti-ram-raid products to keep your premises safe.
Electronic Barriers
Manual Barriers
Static Anti-Ram-Raid Bollards
Telescopic Posts / Bollards
Traffic Calming / Flow Plates
Hoop Barriers
Security Gates
Anti-Ram Brace & Beam Fences
Heavy Duty Roller Shutters
Electronic & Manual Barriers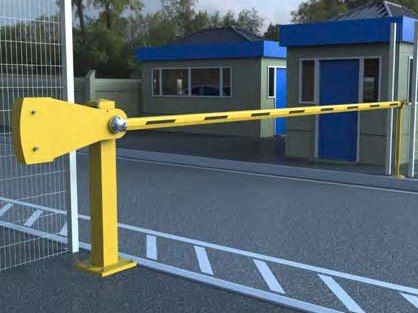 If your premises are situated at the end of an access road, gates or fences, you may well benefit from the addition of heavy duty access barriers.
To protect against ramming, a vehicle has to be within an access corridor and moving at high enough speed.  We can help you to keep any unauthorised vehicles outside of critical areas with our range of barriers.
Barriers can be manually operated in suitu, remotely or can feature full automation using sensors, card, keypad, GPRS or transponder based access.
Hoop Barriers
Available in root fixed and bolt-down varieties (optional third leg / brace available) for permanent and rugged defence. We also install detachable  lift-out removable hoops with key operation.
Hoop barriers provide a proven and cost-effective way to protect a larger area against vehicular incursion.  Typically spanning up to 1750mm with heights up to 1050mm, they offer a substantial resistance to unauthorised access.
Available in stainless steel and galvanised powder coated options, we can supply hoop barriers in a range of colours to suit your premises.
Static Bollards & Telescopic Steel Posts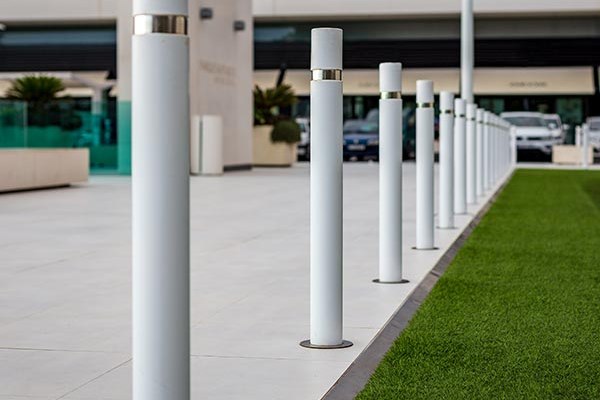 Correctly specified and installed, robust barriers are one of the most effective and popular defences against ramming attacks.
Constructed from aesthetically pleasing heavy duty stainless steel or galvanised / powder coated options, the bollards / posts that we install can withstand incredible shearing forces without failing.  We can supply and install anti-ram-raid bollards capable of stopping a 7.5 ton truck dead at 50mph!
The telescopic posts we fit can be retracted and deployed manually or electronically to allow or prevent access at any time of day. Secured almost a metre below the surface and anchored with sleeving and concrete, you can trust them to be durable and resilient.
We offer square section and round posts to suit different tastes with each offering comparable durability.
With an extensive range of control mechanisms and methods from GPRS to push-button or manual lift, you can be sure that B & L have your ram-raid defence needs covered.
Flow Plates / Traffic Calming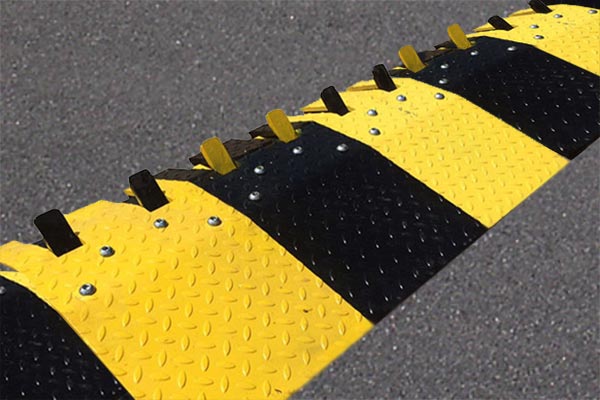 These convenient and discrete defensive elements are a simple way to control the speed and direction of traffic flow around your premises.
Consisting of spring loaded angled plates, they offer many years of service with frequent operation.  Working to mechanically prevent vehicles attempting to travel over them at excessive speed or in the wrong direction or at high speeds, you can effectively reduce the threat towards certain aspects of your premises while allowing traffic to flow easily away from them.
Heavy duty, long-life springs mean that this option is exceptionally hard wearing and effective.
Available in surface mounted options which can be used even in multi-story car-parks and recessed versions for enhanced durability.  We also offer flow-control plates mounted into speed ramps.
Security Gates & Fences
B & L have access to one of the widest range of security gates and fences available.  Invaluable for securing the perimeter of your premises or campus,  we suggest suitably robust gates and fences are considered as part of your premises ram-raiding defence.
Typically available in galvanised steel and wrought iron, our security fences and gates are available with a range of anti-personnel features.
Complementing dedicated anti-vehicular ram-raiding defence techniques, you can find out more about our range of security gates here >
Brace & Beam Anti Ram-Raid Fences
As standard our security fences and gates will deter casual access, but we can also install anti-ram fences with brace & beam reinforcement to ensure high-performance vehicular defence around vulnerable areas.
Due to the braces used for this style of fence, brace & beam fencing doesn't require a deep foundation.
Heavy Duty Roller Shutters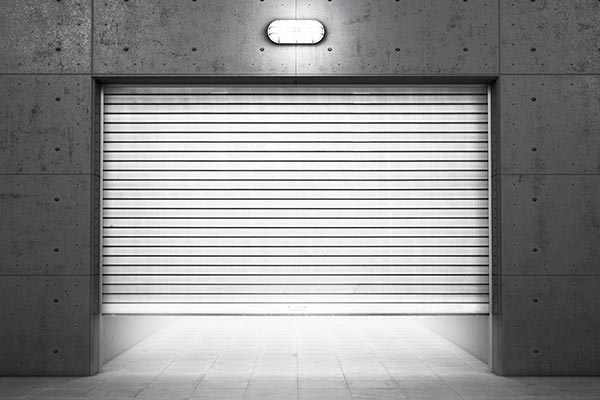 As you may have heard, at B & L Roller Shutters, we can manufacture roller-shutters for applications of virtually any scale.
Our heavy duty range of roller shutters feature tough, steel frames and rugged guides to keep the steel slats in place under extreme duress.
Steel roller shutters offer the highest level of security available in shutter form.
For even higher security against ram-raids, we recommend installing bollards, barriers or posts in front of the barriers to provide a heavy duty two factor defence.
Find out more about the secure roller-shutters we can supply >
Contact B & L Shutters and Garage Doors Ltd
To order, or for more information please get in touch: