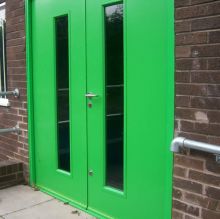 B & L Shutters Ltd manufacture, supply and fit steel doors for a variety of purposes and locations. A steel door is a worthy investment for any business. Steel entry doors (sometimes called steel exterior doors) protect your business and its assets from unwanted intruders, damage or theft.
Steel security doors are an excellent enhancement to your buildings and with drill proof protection caps, they make a formidable defence against unwanted and unauthorised visitors.
Steel Doors, Steel Frames Panels To Match
We manufacture and install single and double steel doors with options for side panels or overpanels if required and with just the same level of security as a simple steel door. Flush lipped forends and security pin hinges are included with our door installations maintaining security in each component.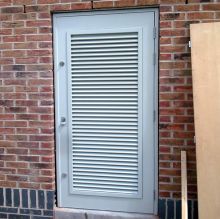 Steel door frames used in conjunction with steel or stainless steel doors (if a highly aesthetic solution is required) make your buildings much safer and more durable. We usually supply steel doors with their frames as a complete set. Most wooden frames are incompatible with the weight of a steel door which necessitates a steel frame so B & L save you money by providing the two in a package.
Industrial And Commercial Steel Doors
B & L also manufacture industrial steel doors and shutters which make the perfect closure of industrial units and rooms.
Commercial steel doors and steel shutters for shops, retail units or other commercial spaces can be attractive as well as offering a great value solution.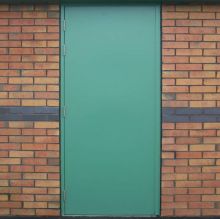 B & L have a wealth of experience in designing, manufacturing and installing rolling steel doors, custom steel doors, and steel fire doors.
All the doors produced or supplied by B & L Shutters meet or exceed British standards and EN179 and 1125 stipulations.
We can supply all of our doors in a variety of coatings and surfaces to meet your requirements exactly.
Attractive And Secure
Steel entrance doors for homes can offer a security advantage and stainless steel doors can offer a real aesthetic appeal. Protecting communal dwellings, apartment buildings and flats, residential steel doors are a great deal harder to compromise than their wooden equivalent and most likely cost less than you'd expect for such a durable solution.
Metador Defender High Security Steel Doors
Metador Defender is one of the most secure steel door solutions in the world. The example shown is a Metador Defender Double Steel Door Set that we recently installed.
With the features offered by Metador Defender, you can be sure of your security:
Bolted corners (stronger and quicker)
2mm Steel threshold (no skimping on materials)
1.5mm Leaf  (56% stronger than 1.2mm)
Constructed from glavanized steel throughout
16 Threaded adjusters as standard (8 fixing points each side)
4 Grade 13 stainless steel hinges with dog bolts
Fully Certified:

CE Marked
ISO 9001:2008
CERIBOIS thermally rated to 1.8Wm²K
BS EN 1634-1:2008 Fire Rating Test

 Click here to download the Metador Defender Brochure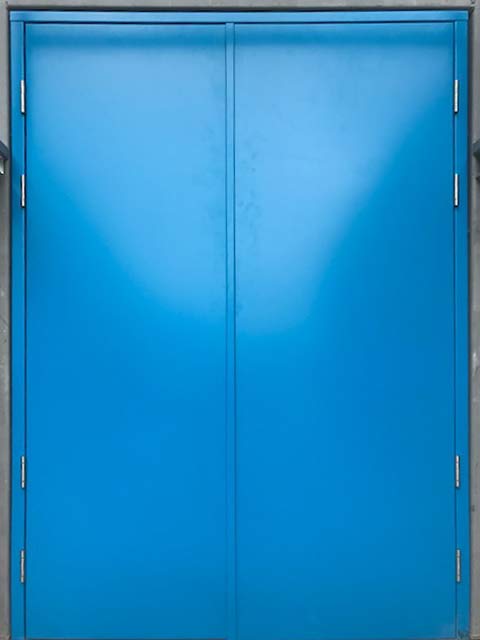 Contact B & L Shutters and Garage Doors Ltd
To order, or for more information please get in touch: