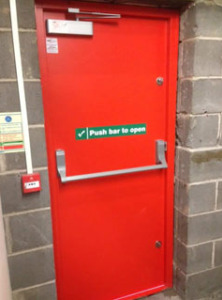 Steel Fire Doors are an important part of many building's fire defence strategy for good reason. Primarily, they allow the occupants of your premises to evacuate the building rapidly in the event of a fire.  As you would expect, they also retain fire and smoke for much longer than other types of door. The advantages don't stop there, though. Our fire doors offer better security than timber, PVC or aluminium doors and are extremely durable.  That means that burglars will find your B & L steel door frustratingly difficult to break, if not impossible.
B & L bring you the latest steel door designs with a range of options to dress your door such as glazed panel, vision panels, spy viewers, kick-plates and ventilation.
We Have The Right Steel Fire Doors For You
It is important to have your fire door installed by an expert and B & L have the experience required to provide the safest and strongest solution you could buy. B & L have supplied and fitted steel fire doors for a variety of business, council operated and public sector premises.  We can install the best fire doors in any premises, protecting you against the risk of spreading fire.
Many of the types of double door-sets we provide have been tested against furnace conditions for up to 6 hours, with single doors tested for 4 hours.
We can supply and install double fire door sets & single doors as well as a range of fire rated products such as fire curtains and smoke curtains and fire shutters. These products are unsurpassed for their quality and safety features in the event of a fire.
Fire Rated Wrap Around Door Frames
We supply and install wrap around door frames which carry a 2 hour fire rating. Made to support the doors which we supply and fit, they comprise of an inner and outer frame.
We ensure the door fits securely and squarely into the wrap around door frame and also fit inner sub-frames. We've been working on security installations for decades.  You'll find our workmanship is as impressive as our efficiency.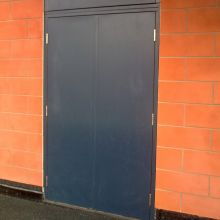 Leave nothing to chance by calling B & L Shutters and Garage Doors to discuss the fire door needs for your business premises on Freephone 0800 9247 127 or 0121 557 0260.
You can also reach engineers for emergency assistance on 07976 444 671.
Nationwide Installation
We are able to fit fire doors and fire rated products across the UK.
Areas we typically work in including London, Birmingham, Manchester, Liverpool, Nottingham, Stoke, Bristol, Oxford, Gloucester, Cardiff, Swindon, Sheffield, Leeds, Newcastle, Southampton, Reading, Glasgow and Edinburgh.