Decorative steel panel doors supplied and fitted by B & L offer a layer of discrete security with an attractive embossed finish.
Our embossed panel doors offer an appealing Georgian effect detail and can be provided with different sized panels and varying numbers of panels to suit almost any taste.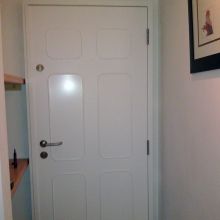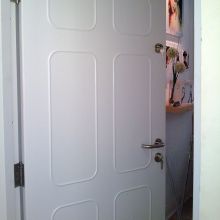 Decorative steel doors can be applied to listed buildings, housing, sheltered accommodation and offices, banks, restaurants etc which require an attractive finish to their door whilst maximising on security.
B & L offer a flexible range of finishes for embossed panel doors, so you can choose from a range of appealing colours and finishes to suit the decoration of the premises.
We can install embossed panel doors anywhere in the UK from our West Midlands base.  When we install steel doors, our expert fitters take care to deliver a high standard.  The right choice of doors for your premises will bring you a secure solution which is sympathetic to the surroundings and building style.
These security steel doors can be provided as single doors, leaf and half doors or double doors.  They can be used in place of any existing doors to increase durability and resistance to damage.
Customers can also choose from a range of locks and furniture to finish the door to the desired effect.
Contact B & L Shutters and Garage Doors Ltd
To order, or for more information please get in touch:
Call: 0121 557 0260 Emergency: 07976 444 671