Sectional doors comprise of multiple sections of solid or glazed panel which are linked together to seal large entrances, exits or divisions between units.
Sectional Doors:
Open and close vertically
Are ideal for areas with restricted space around portal
Can stack above door area or stow flat below ceiling
Come in a variety of materials – usually steel and aluminium
Can be constructed to fit any size of aperture
May incorporate windows or glazed sections
Applications For Sectional Doors
Sectional doors are particularly useful where space around the door is valuable or must be kept clear. Garages, machine shops, factories and fire-stations where vehicles, machinery or goods might be stationed right behind the doors are typical examples of sites which can benefit from secure sectional doors.
Areas requiring excellent security from unauthorised access, weather protection and clear access paths can all benefit.
Benefits Of Sectional Doors
Save space around door
Allows For wider access space through aperture
Excellent sealing: weather and light resistant
Very secure: very good at preventing access to secure areas and facilities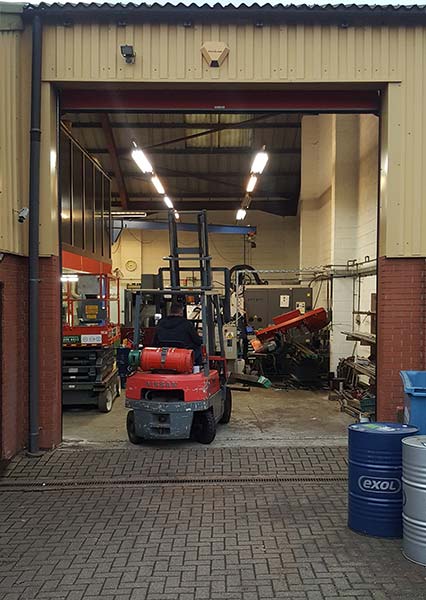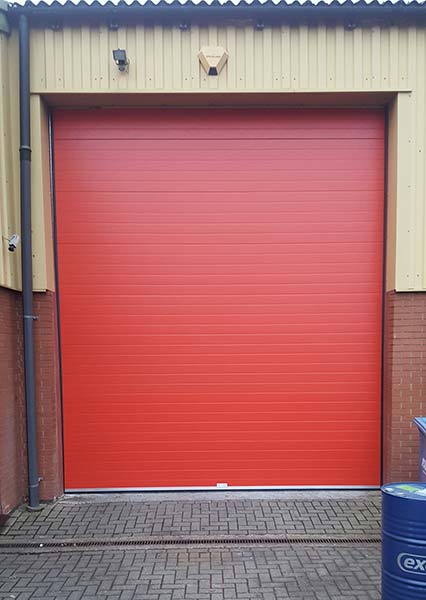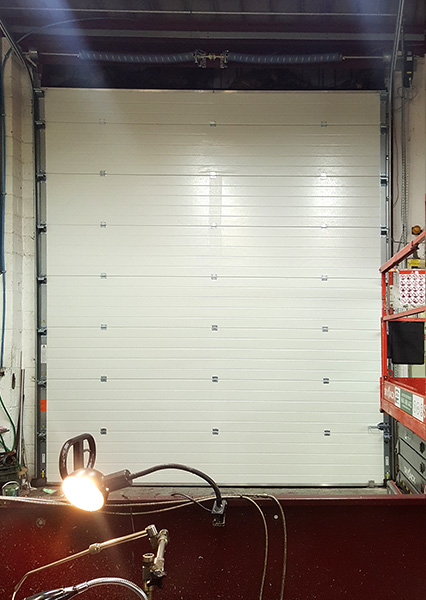 Insulated Sectional Doors With New Wicket Gate Entry

This new type of insulated roller door with separate wicket gate style entry is proving very popular with our clients.
Combining the benefits of secure and a well-insulated roller shutter, with a built-in door for personnel, means even better climate control and energy-conservation are achieved.
If you want to let vehicles, products or plant through, you can raise and lower the entire roller door. If you only need to let staff or small items through the door, you don't have to spend time and energy raising the whole closure, you can simply open the door within the shutter.
Clever engineering means that when the sectional shutter is raised and folded, the internal door moves seamlessly with it.
We are impressed with the quality and truly practical functionality of these doors and frequently recommend them to clients with any similar needs.