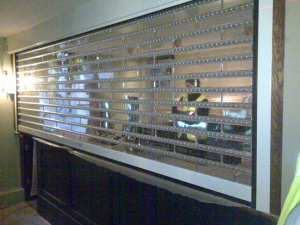 B & L supply and install clear roller shutters systems.  The ideal shop front roller shutters have vision panels to allow passing people to see what the shop sells, even when they are closed for the day.
These are ideal for businesses which wish to secure their premises and stock, but still wish to illuminate and display their products at night.
Opportunist shoppers who regularly pass by might see something they'd like to buy the next day, while thieves are deterred from even attempting to break in.
Retail premises in shopping malls and retail parks, restaurants, offices and vehicle showrooms can all benefit from contemporary styled and highly secure clear roller shutters.
They can also be used to protect and securely display schools, garages post offices, building societies and banks. Our commercial and industrial roller shutter doors can also secure premises in business parks and units etc. The clear shutters also help protect premises from vandalism and graffiti.
Clear Shutters Benefit Your Business by:
Allowing You To Market Your Products & Services Day & Night
Acting As A Deterrent Without Looking Unsightly
Being Difficult To Deface Or Vandalise
Providing Secure 24 Hour Security
Reducing Air, Particle & Water Transparency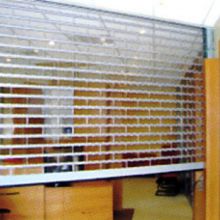 How Clear Is Clear?
Our clear shutters allow 87% transparency through the opening, more than any Perspex or acrylic retail roller shutters.
This enables you to market your products and messages to potential clients on shop displays and through security screens around the clock, whilst your transparent, high security shop shutters provide 24 hour protection for your business.
Clear roller shutters are an excellent solution allowing visibility and security, without compromising on either.
Strength & Security
The material strength in our commercial shutters is greater than that of steel, and the secure, clear roller shutter design structure gives superior resistance to attack.
The unique security shutters design and materials vastly reduces air, water and particle transference through the opening when compared to conventional retail shutters which use perforated systems.
Let B & L Help You Choose The Best Solution
If you are searching for professional and competitively priced commercial roller shutter manufacturers or roller shutter companies, then please get in touch today for a friendly, no obligation quote. We will be happy to design a bespoke security solution for you which provides the benefits of clear roller shutters.
Download our Transparent Roller Shutter Brochure Below

Right click and save or left click and view in browser
Contact B & L Shutters and Garage Doors Ltd
To order, or for more information please get in touch:
Call: 0121 557 0260 Emergency: 07976 444 671