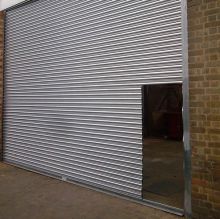 B & L steel security shutters offer a competitively priced and solid solution to criminal damage and theft from your property. We are delighted to supply and install electric steel roller shutters or manually operated roller shutters. We can offer a variety of finishes and of course we tailor our products to fit your apertures perfectly. Our shutters all meet the quality assurance requirements for ISO 9001:2000.
Our steel window shutters and steel roller shutter doors all comprise the most hard-wearing and high quality components to make sure that whatever solution you choose, it will be low maintenance and hard-wearing. We aim to exceed your expectations whenever the opportunity arises.
If you require a particular kind of steel shutter to match your colour scheme or ambient styling, we will work with you to achieve the finish that you want.
Style With Security
It goes without saying that any steel window shutters that B & L supply will offer you great security, but we aim to provide a steel roller shutter that meets your aesthetic requirements too.  We are always delighted to install your steel window shutters too.
Stainless steel roller shutters are particularly popular as they combine the best of looks and security and lend a less industrial feel to your secure closure.
Your stainless steel roller shutter couldn't look better.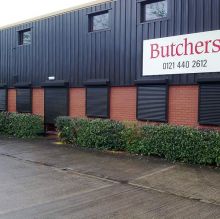 Door & Window Shutters
Steel shutters are as popular for doors as they are for windows. B & L have experience in catering for extra-high doorways for industrial applications such as warehousing and lorry docks.
A steel roller shutter ensures that it is as difficult for unwanted guests to get in as possible, while entry for you and your staff is as simple as can be.
Steel is by its nature extremely hardy and inflammable it is also very resistant to a wide range of chemicals and climates with the proper finish.
Controllable Flexible Solutions
Our roller shutters can be operated mechanically by hand, electrically by remote control or using push-button panels depending on your preference. Courtesy lights which operate with the shutters or beam operated automatic shutter systems are available as optional extras and we can also supply a range of accessories and spares.
Contact B & L Shutters and Garage Doors Ltd
To order, or for more information please get in touch:
Call: 0121 557 0260 Emergency: 07976 444 671