B & L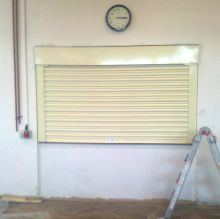 supply, install and maintain a range of vertical and horizontal fire shutters.  Shutters are an important part of many premises' fire and smoke control strategy.
Fire shutters allow a building to remain open, but be quickly divided into compartments.  Linked to your fire and smoke system, fire shutters can be operated automatically or manually in the event of a fire.  This prevents the rapid spread of fire and equally deadly smoke.
We have a great deal of experience providing high quality and durable fire-shutters.  Decades of consistent service has lead to a great deal of repeat business.We realise that you need to depend on your fire-safety equipment and we work hard so that you can depend on us.
We know that you depend on your fire-safety equipment and we work hard so that you can depend on us.
Our expert installers have installed fire-retardant shutters in warehouses, logistics and manufacturing sites and shopping centres.  We have also installed fire shutters in retail parks, car parks, supermarkets, department stores and shops.  You may also be interested in our steel fire  doors,  fire curtains and smoke curtains.
Why Are Fire Shutters Important?
In the event of a fire, your fire shutters will deploy at a safe speed to close off and secure open spaces, therefore halting or drastically slowing the propagation of smoke or fire.  Fire resistant closures are crucial for protecting your staff, equipment and even the building itself.  A well-designed fire control strategy usually includes shutters to help prevent the spread of fire between floors, stairwells and areas served by escalators. The slower fire and smoke spreads, the more time there is for safe evacuation of staff and fire services to arrive and control the fire.
We create effective fire safety designs, having installed many different combinations of fire defence systems over the years.  Custom building anti-fire and smoke shutters for the widest variety of building shapes and sizes, we can design around curved areas and circular structures without fuss.
Rigorous testing of our products means that we are 100% confident of their effectiveness against heat and suitability for purpose.
Fire Shutters: Structure & Support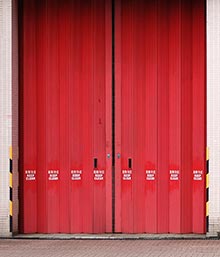 In order to be effective and compliant, the structure surrounding the fire shutters must be fire resistant, to the same level or higher than the shutters themselves.  Without fire resistant frames, fire could spread around the shutter.
The surround must have a fire resistance equal to or greater than the fire resistant roller shutter itself. This ensures the entire structure prevents the spread of fire for a suitable length of time.
We consider the load pressures placed on the various aspects of the fire shutter and its surrounding structure, including support brackets, end plates etc.
B & L Roller Shutters have the knowledge and experience to make the right recommendations to suit fire safety requirements and your prerogatives without fuss.
Fire Shutter Maintenance
It is necessary to have fire shutters tested and inspected every six months. We are happy to provide this service as part of an ongoing fire resisting shutter maintenance package.
We can also install electric motor operated fire shutters, which bring you all the convenience of automatic opening and closing.  In the event of a power failure, a manual overrides allows you to operate the shutter manually.  The best of both worlds, in one solution.
Contact B & L Shutters and Garage Doors Ltd
To order, or for more information please get in touch:
Call: 0121 557 0260 Emergency: 07976 444 671