Commonly constructed from aluminium or steel, most home-owners in the UK have up & over garage doors.   They are an affordable and flexible way to secure a domestic garage without the need for expensive mechanisms or preparation.
Two Main Types Of Up & Over Garage Doors
Canopy
Up & over garage doors are the most popular and straightforward garage door mechanism available.  Comprising of a single panel door which protrudes horizontally from the roof of the garage once raised, in doing so it forms a canopy.  It moves up and over the entrance to the garage, hence 'up & over garage doors'.
The main advantage of this style of garage door and mechanism is that it allows for the maximum width for access to the garage.  It is also possible to automate this style of garage door.
Movement of the garage door is assisted by strong springs, although the typically manual nature of this door means that it is normally limited to around 8ft / 2.5M width.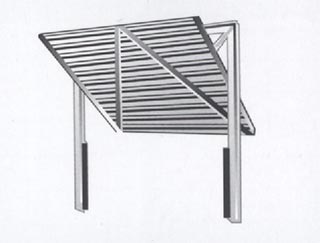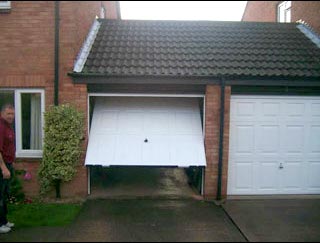 Retractable
Increasingly common, this version of the up & over door is easily converted to an automatic/remote operation door.  It is possible to enjoy the convenience and security of retractable up & over doors at a relatively low price.
Due to the side mounted lifting arms which are used to retract the door, access width is slightly reduced compared to the canopy model. However the mechanism is capable of taking much heavier weight doors than the canopy style and can be used on garage doors with a width greater than 8ft 2.5M.