Project Description
We were pleased to fit these beautiful Ryterna Insulated Side Hinged Doors in Rosewood for one of our customers recently.
As well as looking great, they don't require any headspace when they are opened and allow access to the full width of the garage. Alternatively you can open one side only for pedestrian access without exposing your garage to the elements.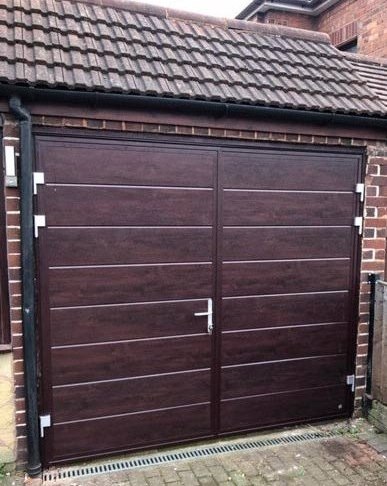 Ryterna: Security With Style In Mind
Ryterna side hinged garage doors are available with a variety of panel layouts.  You can choose from horizontal, vertical or chevron styles. We also offer stainless steel full-view windows and the full choice of more than 100 panel types, you can choose the perfect side hinged doors for your property.
Flexible Configuration
The hinged doors can be split down the middle or into a 2/3 – 1/3 configuration offering garage door with pedestrian access functionality.
Security With Style
With robust hinges and hinge bolts, you can be sure that your garage is secure.  We offer a 3 point safety locking option for these doors. We can also provide sprung hinges for a soft close action.
We manufacture these doors to fit almost any garage size.
With the range of styles, colours and full view panels, B & L will help you to find and fit Ryterna garage doors that are perfect for your house.